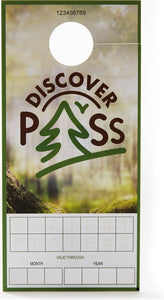 Annual Discover Pass
Get access to millions of acres of state recreation lands in Washington with the Discover Pass.
Product Details
Transferable between two vehicles
Expires one year from the date of purchase

About the Pass
We make every effort to ensure orders are fulfilled and ready for shipment within 2-3 business days. No orders are shipped on Saturday & Sunday.

Unless noted on a product's page, orders will ship in the order they were received. We will notify you via email as soon as your order is ready for shipment. Digital Products (Guides and Gift Cards) are available for immediate download or will be emailed to you.
Standard delivery times:
U.S. orders: 2-5 business days.

Orders to Canada: 5-9 business days.

Other international orders: 10-15 business days.
FedEx Standard Overnight:
Orders are delivered in 1 business day after fulfillment.

Orders placed Monday - Friday after 12pm Eastern Time will likely ship the following business day.
Orders that are shipped and tracked with USPS: USPS does not make any guarantees on shipping times. Read our shipping policy for full details.
OK
My previous Washington State Parks Pass had the expiration date printed on a sticker. The most recent one I received had the expiration date hand-written. I'm not sure why?
I did not check the expiration date prior to paying for a new one, but my previous pass was still valid and had several months left on it.
I wish that Washington State Parks had the same payment/card system as the National Parks, which is a lot better system.