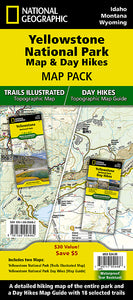 • Waterproof • Tear-Resistant • Topographic Maps

Yellowstone is the wild heart of America! Established in 1872, it's our first National Park and the birthplace of the National Park idea. Its 2.2 million acres contain the world's largest, most varied collection of hydrothermal features and provide sanctuary for many rare and exquisite animals.

This two title Map Pack Bundle helps explorers of all levels see everything this astounding park has to offer. The map pack includes an overview map that shows the entire park as well as a Day Hikes map guide. With this combination of maps visitors can feel comfortable planning a trip to a park with options for everyone, from multi-day backpack trips to short hikes near Old Faithful.

The Yellowstone National Park Day Hikes Topographic Map Guide contains detailed maps for 18 of Yellowstone's finest day hikes, scattered across 6 regions of the park. It includes well-known hikes, together with a few off-the-beaten-path trails, selected to give you a wonderful sampling of all the park has to offer. Together, they cover more than 100 miles of adventures. One-third of the selected hikes are less than 5 miles long, two-third are less than 8 miles, and only one hike is longer than 10 miles.

The Yellowstone National Park and Day Hikes Map Pack includes:

Map 201 :: Yellowstone National Park
Map 1705 :: Yellowstone National Park Day Hikes

Every Trails Illustrated map is printed on 'Backcountry Tough' waterproof, tear-resistant paper. National Geographic's Topographic Map Guide booklets are printed on 'Backcountry Tough' waterproof, tear-resistant paper with stainless steel staples. A full UTM grid is printed on the map to aid with GPS navigation.
We make every effort to ensure orders are fulfilled and ready for shipment within 2-3 business days. No orders are shipped on Saturday & Sunday.

Unless noted on a product's page, orders will ship in the order they were received. We will notify you via email as soon as your order is ready for shipment. Digital Products (Guides and Gift Cards) are available for immediate download or will be emailed to you.
Standard delivery times:
U.S. orders: 2-5 business days.

Orders to Canada: 5-9 business days.

Other international orders: 10-15 business days.
FedEx Standard Overnight:
Orders are delivered in 1 business day after fulfillment.

Orders placed Monday - Friday after 12pm Eastern Time will likely ship the following business day.
Orders that are shipped and tracked with USPS: USPS does not make any guarantees on shipping times. Read our shipping policy for full details.