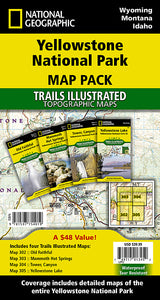 • Waterproof • Tear-Resistant • Topographic Maps

At over 3,500 square miles the size of Yellowstone National Park is hard to absorb. This four title Map Pack Bundle helps to bring this enormous park into sharper focus. Each map covers a section of the park but still provides enough overlap with the adjacent maps to allow all four to be used easily. The maps cover the different areas of the park so that a visitor can move easily from geysers to lakes to waterfalls to the deep backcountry. One of the main draws of Yellowstone National Park is the wildlife, these maps clearly show the Bear Management Areas that have been established to reduce the conflict between humans and the large bear population. The maps include trails with mileages between intersections as well as numerous points of interest such as campgrounds, visitor centers, trailheads, and many more.

The Yellowstone National Park Map Pack includes:

Map 302 :: Old Faithful: Yellowstone National Park SW
Map 303 :: Mammoth Hot Springs: Yellowstone National Park NW
Map 304 :: Tower, Canyon: Yellowstone National Park NE
Map 305 :: Yellowstone Lake: Yellowstone National Park SE

Every Trails Illustrated map is printed on "Backcountry Tough" waterproof, tear-resistant paper. A full UTM grid is printed on the map to aid with GPS navigation.
We make every effort to ensure orders are fulfilled and ready for shipment within 2-3 business days. No orders are shipped on Saturday & Sunday.

Unless noted on a product's page, orders will ship in the order they were received. We will notify you via email as soon as your order is ready for shipment. Digital Products (Guides and Gift Cards) are available for immediate download or will be emailed to you.
Standard delivery times:
U.S. orders: 2-5 business days.

Orders to Canada: 5-9 business days.

Other international orders: 10-15 business days.
FedEx Standard Overnight:
Orders are delivered in 1 business day after fulfillment.

Orders placed Monday - Friday after 12pm Eastern Time will likely ship the following business day.
Orders that are shipped and tracked with USPS: USPS does not make any guarantees on shipping times. Read our shipping policy for full details.
These maps will make our National Park visit SO much easier and less stressful! We're planning our routes already :)